Synopsis:
Three friends conspire to murder their awful bosses when they realize they are standing in the way of their happiness.
Source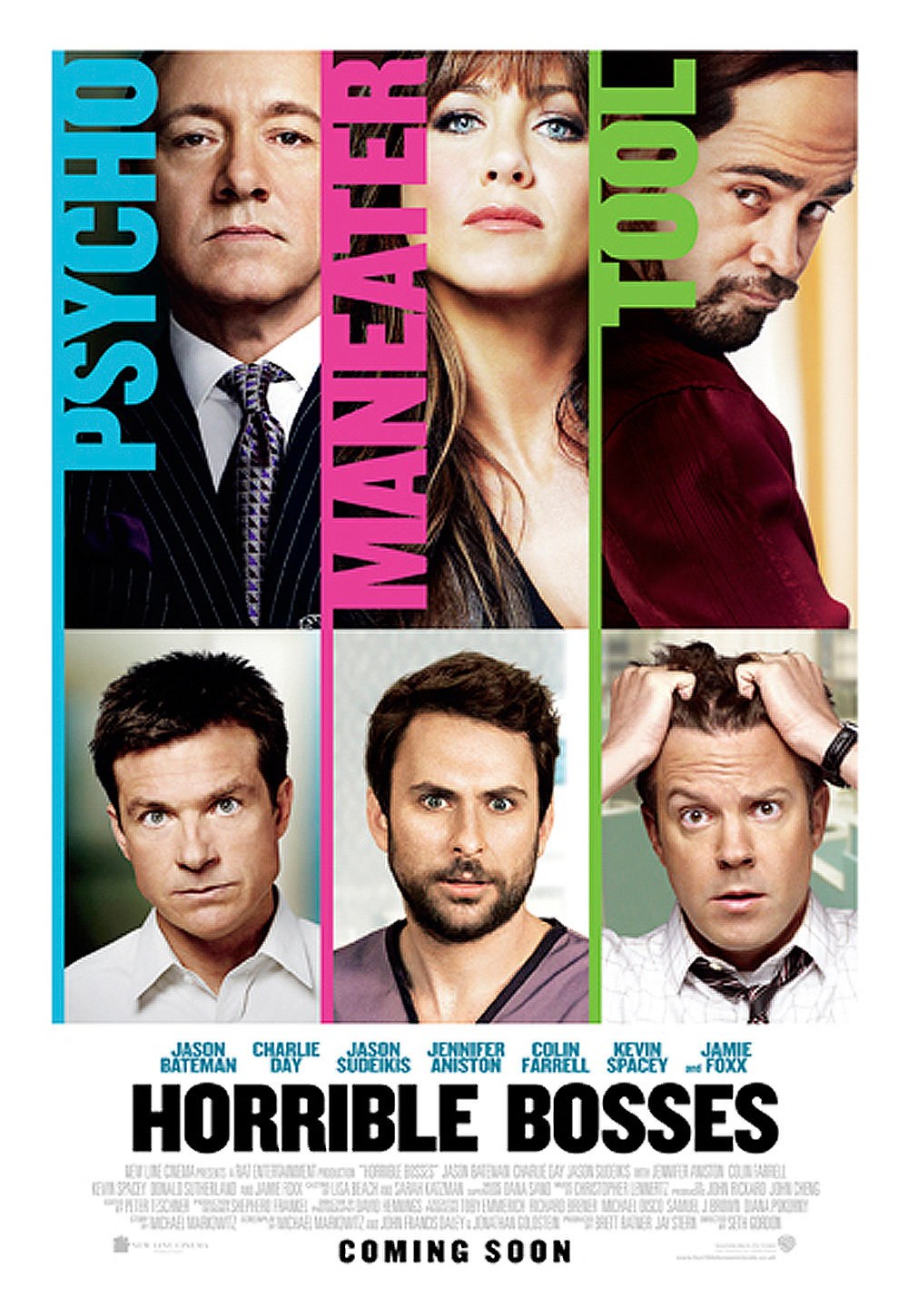 Plot:
With a wide, funny and serious cast, this movie was a blast! I loved it so much, my stomach was hurting when we left the theater for laughing so hard. My sister's stomach was even hurting, and she was out of breath from watching. The plot was very different, and there were enough parts in the movie to make you giggle and want more. The bosses were hilarious to watch because they were all familiar faces that I was used to them being complete jerks, idiots, or... well, you get it (
Bosses:
Kevin Spacey, Jennifer Aniston, & Colin Farrell
)
Cast:
Nick Hendricks (Jason Bateman):
I've seen this guy in a lot of movies. A lot of them are pretty serious, but in the funny ones, he doesn't even have to try to be funny. His serious faces and antics make him all the more funnier (kind of like Johnny Depp in
Sleep Hollow
. I know that wasn't even a funny movie, but I still laughed at his facial expressions.). His boss (
Kevin Spacey
) fulfilled the requirements to push the character over the edge.
Kurt Buckman (Jason Sudeiskis):
Recently, Jason Sudeiskis was in
Hall Pass
, a 2011 movie also starring Owen Wilson. This guy was a swinger funny. He'd hit on random woman, do.. certain things that I was dying of laughter from, and his hatred of his new boss, Bobby Pellit (
Colin Farrell
) was funny. Jason was a funny man to watch, and his antics and hilarity rode on facial expressions and gestures he made.
Dale Arbus (Charlie Day):
Star of the comedy show,
It's Always Sunny in Philadelphia,
Charlie Day was absolutely, no refund, my favorite out of the three. His hilarity rode on stupidity, antics, facial expressions, and his (noted in the movie) hamster voice. In several parts, I was just laughing my butt off because of his kid. He is hilarious in this movie and in his show. I seriously hope he is in more movies soon, because he just makes my day!
Poster:
In the poster, it pretty much sums up the entire bosses personalities. From each boss, underneath them is the friend working for them. I liked the movie poster because, personally, it made me laugh.
Overall:
It's hard to rate this movie, simply because of all the different things. In general, this movie just
wasn't
rated R for nothing. It did have a lot of dirty jokes and innuendos thrown into the mix, giving the movie a more "
Be mature to watch this movie!
" This movie was both predictable and unpredictable. I honestly liked it because of the fact that there were enough, and more, funny scenes to make this movie a comedy, and the plot twists and never knowing when the hilarity will end. So, all in all, besides the fact that the movie was, in fact, Rated R, I thoroughly enjoyed it, and I give it 4/4 polishes.
BEWARE: IF YOU ARE OF THE FAINT OF HEART ON CERTAIN JOKES, DO NOT SEE THIS MOVIE! THERE ARE A LOT OF EXPLICIT WORDS, SCENES, AND EXCHANGES BETWEEN CHARACTERS!
Other than that, go see it!
Inked with Brilliance and Love,
Sara