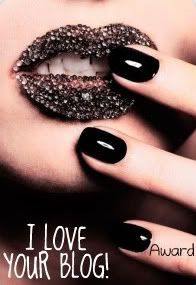 A few months ago, I found this amazing book blog with a hilarious female blogger behind it all. Recently, I got the chance to have little chats with her on Twitter. For this month, I decided that this girl needed to get some credit for her hard work on her blog and having an amazing attitude along with the ride. I'm pleased to say that Ash from
Smash Attack Reads!
is this month's award winner! Here's my Q and A with her below:
How did you get started blogging?
Well, my great friend Brooke at Brooke Reviews had been reviewing for a while and started a blog. I enjoyed interacting on her blog, and began to notice that my personal blog was becoming populated with bookish posts, so I decided to take the plunge. I am beyond happy that I made that decision. Book blogging is a major part of my life now. ♥
How did you come up with the name of your blog, Smash Attack Reads!?
I've been Smashley for most of my life. Mom named me that as a toddler because I would smash into things, people, walls. LOL. My closest friends call me Smash. Brooke randomly called me Smash Attack one day (she has no idea why) and it stuck. I LOVE the nickname. It has become my alter-identity. ;)
Over the past few years, what have you learned from blogging?
I've been blogging for a good 15 years now. I mainly used Livejournal in my 20s – that was the place to be. It was definitely a journal of sorts and a way to connect with friends and share similar interests. I started a personal blog on Blogger in 2008, and now use Blogger for my book blog. It's the last year that I've learned the most about blogging because my book blog is a professional medium, and therefore, I've done a lot of research and put a lot of work into it. Events like Blogiesta and Parajunkee's Book Blogging 101 feature has been hella helpful. Windows Live Writer has definitely been the best think to cross my path. I'm not sure I'd still be blogging if I had to use Blogger's interface!
What is your favorite thing about blogging? The worst?
THE BLOGGERS! I absolutely love meeting and maintaining friendships with other bloggers. I've met some amazing people and I am constantly in awe at the genuine, generous souls in this community. The worst part about blogging is that I wish I could do it full-time. Life gets in the way of reading and blogging. Boo. Thankfully, I'm good at time management. :)
What does your blog bring to the book and blogging community?
It's nothing out of this world, but I try to bring my unique POV to the community. I wish I had more time to invest in making Smash Attack Reads! more unique, but for now, I'm content with the content and features. I finally have a set weekly schedule that I am happy with for now.
What are your favorite book genres to read?
I really enjoy Paranormal Romance, Urban Fantasy, and Young Adult Fantasy / Paranormal. I also love books that dabble in Angel or Greek mythology or have a Dystopian setting, and I read Horror, Historical Romance and various other genres from time to time.
As of right now, what have been your favorite reads for 2011?
As far as 2011 releases go: Wolfsbane by Andrea Cremer was pretty great, though not as good as Nightshade. Good, solid sequel though. Divergent by Veronica Roth was amazeballs, as was Enclave by Ann Aguirre. LOVE this genre. Clarity by Kim Harrington was a dark horse, and Intern with a Vampire by Kit Iwasaki was so much fun. I also really enjoyed Anathema by Megg Jensen, and Zombies Don't Cry by Rusty Fischer was funny! Pale Demon by Kim Harrison was ridiculously awesome (LOVE THIS SERIES!) and Shadowfever by Karen Marie Moning was a great ending to the Fever series. Shift, the sequel to Shade by Jeri Smith-Ready, was a fantastic read. Both book are fab! I know I will add Trial by Fire by Jennifer Lynn Barnes, Lover Unleashed by J.R. Ward and City of Fallen Angels by Cassandra Clare to this list once I read them!
What do you like about interviewing? Do you have a favorite interview?
I like the personal questions best, and I always ask "What five adjectives best describe you." I also do this at live author events, and put authors on the spot. Heh. I like knowing the person behind the book. Carolyn Crane was one of my first interviews, and it's great because she is great. :)
What are some happenings going on over at SAR?
Nothing out of the blue really. I've got a weekly non-book feature every Saturday for So You Think You Can Dance fans. Jen from Not Now, I'm Reading and I do recap posts with videos, commentary and the like. We both adore that show. I don't have anything cool in the works (I need to work on this), though I am getting a custom blog design (FINALLY). It will have owls, of course. :)
What is the Book Whore of the Month?
Ha! It's so bad that I created a Feature with the word Whore in it, but it works so whatever. One day in January, I forwarded a Tweet that Amazon Kindle eBooks outsold hard copy books on the site, and Marcie over at To Read or Not To Read commented about it. We both agreed that it was sad to see our beloved physical books get put on the back burner but that it was beneficial to us spatially challenged peeps. Marcie started to use the hash tag #PassTheClutter, and it turned into a funny conversation. Marcie said she doesn't want Hoarders showing up at her door, and I said we should create a new Hoarders show: Book Whores: Why We Love Them, and my new idea was born. To me, Book Whores are rock stars. And by book whore, I mean the awesome bloggers that we all love so much. I decided to take the idea and showcase some of my favorite bloggers. However, it's not only what I love about them, but I send out secret emails to others to see what they love about them too. And, the book whore gets to pick the next person to receive whore status. I love it to pieces, and I've met awesome new bloggers in the process!
Do you have any special events going on this summer at SAR?
I wish. I finished grad school in May, moved in July, and I'm starting a new job Aug 1. Life has been hella busy. However, I would like to do something cool soon. It's been a while since I've had a neat event. I need ideas though. I really suck at coming up with these things. :/ I do plan on doing my first joint review with Ashley at The Bookish Brunette soon though. It will be on a zombie book, of course!
Do you have any tips or advice for upcoming bloggers?
Check out this post I did for Armchair BEA. Windows Live Writer is my ULTIMATE tip. It will change your entire blogging experience!
Bonus: How do you feel about the Harry Potter movies coming to an end?
Wow. It's crazy that the time has finally come. I am wicked sad that it is all over, but I am also beyond proud of what these 7 books have done for the book community. Just like Twilight, Harry Potter catapulted the world back into reading, and introduced so many others to the awesomeness of the written word. I'm huge on Literacy, and it's books like HP that really prove to the world that reading is most definitely fun.
You can also check Ash out on her:
Twitter
l
Facebook
l
Goodreads
l
Tumblr
Peace and Fangs,
Alisha